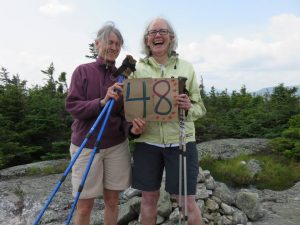 In 2014, O'Day became a member of the "4,000 Footers Club," which meant she had – over the course of 45 years –  hiked all 48 of the mountains above 4,000 feet in the state of New Hampshire.  Her perseverance in climbing mountains was reflected in her distinguished career as a leader, scholar and theological educator, said Jill Crainshaw, Interim Dean of the School of Divinity.

"Gail was fierce and passionate in her devotion to theological education, Gospel proclamation, and ministry. She has journeyed far in her career and life and her feet have brought Gospel news to many people and places in many different ways."
An outspoken and articulate advocate for theological education, O'Day helped the School of Divinity grow and thrive. Currently, more than 120 students are enrolled in its Master of Divinity program. She had a particular genius for creating a generous and welcoming hospitality, and the school has become a sustaining home base for hundreds of students and alumni from many different backgrounds and religious traditions, embracing all ethnicities and sexualities in a truly human community.
The vision she shared through her writing, teaching, and leadership continues to influence students, colleagues, and friends as they follow their own vocational pathways, carrying the transformative spirit of Gail O'Day into the wider world.
Before she stepped down as Dean of the School of Divinity, O'Day was honored by the establishment of the Gail R. O'Day Beloved Community Fund. The fund, established as a tribute to her leadership, received initial, significant commitments from several members of the School's Senior Leadership Team who were then joined by several members of the School's Board of Visitors. This endowed fund will provide financial support for activities that build the communal spirit of the School of Divinity, including weekly community worship services, shared meals and coffee hours, dialogue groups, and a variety of other opportunities for students, faculty, and staff to practice care and service.
Gifts in her memory may be made at http://go.wfu.edu/odayfund.